Industrial Protection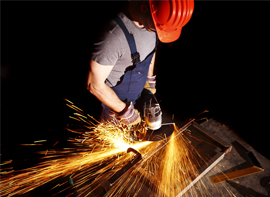 Safety Work Boot - ARMORTEX High abrasion resistant Kevlar upper enhances durability and protects workers' feet from work hazards.
With ARMORTEX Functional materials, you can build a series of world-class protective products such as safety boots, gloves, masks, etc.

- Abrasion resistant fabric on the footwear upper to give the overall durability and protection.
- Reflective patch on the back of the safety gloves to increase visibility in the dark.
- Penetration resistant and conductive material in the footwear midsole to protect workers' feet.
- Abrasion resistant anti-slip material for the shoe toe and heel guards and on the glove palms.
- Flame retardant fabric as the outer layer of the protective mask for welders.

In addition, we offer functional hook / loop for workers to adjust to the sizes of their safety products. Available in both regular & specific (ie. Fire-retardant) styles.

Protective gloves made with our ARMORTEX functional fabrics are not only abrasion resistant but also have excellent gripping capability. Other features such as flame-retardance and puncture resistance are available upon request. We can provide qualification for various international test standard such as EN-388, ASTM D3884, ASTM D3886, etc. High tenacity hook/loop not only gives you the comfort but also the protection that users care the most.
Press Release
Super Thin Chloroprene Rubber Sponge

0.3mm Chloroprene Rubber sponge with a multi-layer and multi-function material. This was designed for professional swimsuits, which helped swimmers break some records in World Aquatics Championships,...

Read More

FR Woven - KK-10

Application: Fire retardant gloves, Heat and Fire Resistant Aprons, Welding applications, Refineries, Steel Plants and etc.

Read More

Rubber or Acrylic Adhesive Backed Fasteners

Self-adhesive fastening tape applies pressure-sensitive adhesive on back of tape, we supply two types of glue which are rubber based and acrylic based.

Read More