What's the difference between Armortex® and Kevlar®?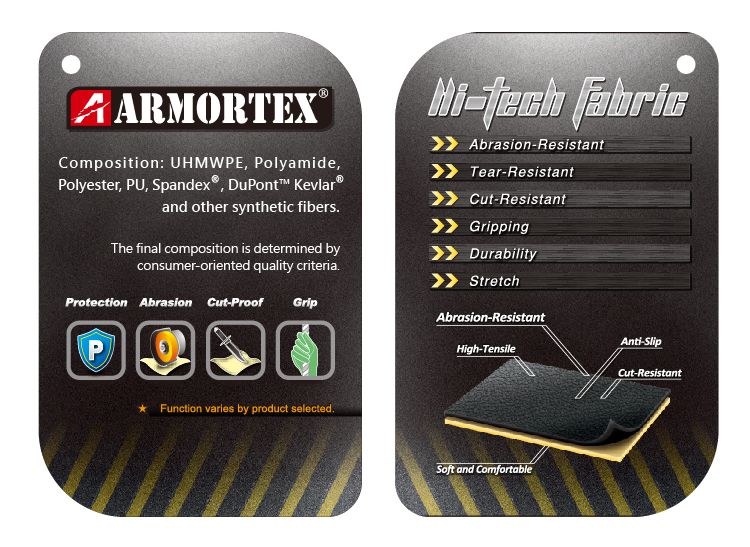 ARMORTEX®
ARMORTEX® is a registered trademark of Nam Liong Global Corporation,Tainan Branch. Namliong Global has dedicated years to the development of materials and fabrics capable of effectively providing protection. We produce fabrics using Kevlar® and other strong fibers e.g. Glass, Stainless…etc.

Namliong grants the use of the logo to its members who have paid their dues for the purpose of using the Armortex® materials. If you are working with Namliong on a project or initiative, please work with our contact to coordinate the marketing permissions. Although we would like to accommodate all the logo requests we receive, we need to make sure our Armortex® brand is used in the right way.
Kevlar®
Kevlar® is a registered trademark of E.I. du Pont de Nemours & Company (DuPont™). Kevlar® is a para-aramid fiber in the aromatic polyamide family, created in DuPont's lab in 1965. It possesses unique combination of high strength, toughness and thermal stability. It can be spun and weaved into different fabric structures including woven, non-woven and knitted, or blended or coated for more of different functions.

Customers who buy Armortex® materials made with DuPont™ Kevlar®, are only entitled to use the Kevlar® brand for informational purposes. If customer wishes to use Kevlar® brand more prominently, they are required to have a written license agreement with DuPont™.

ARMORTEX® contains a broad array of functional materials, applicable of personal or industrial protection field.
Please refer to the attached PDF file for more details on how to correctly use Kevlar® brand without infringing.

Related Products

---

Download

---
Press Release
Nam Liong Group participated in the press conference of Tainan Municipal Government

The local enterprises of Nam Liong Group, in the fierce international competition environment, still adhere to the business philosophy and development ambition, not only show their proud...

Read More

Nam Liong and a number of banks joint credit signing ceremony

June 20, 2018
The total amount of the Nam Liong Global Corporation,Tainan Branch. sponsored by the Land Bank was NT$750 million, and the fundraising case was completed. The signing ceremony...

Read More

2018 Taipei Cycle

Nam Liong Global Corporation,Tainan Branch is going to attend 2018 Taipei Cycle to present foam composite materials.

Read More