Ethylene Propylene Diene Monomer Rubber Sponge (EPDM)
EP-07, EP-10, EP-20, EP-20FR, EP-5010, EP-5020, EP-5020P, SEF-1, SEF-2
EPDM Rubber Sponge, EPDM rubber foam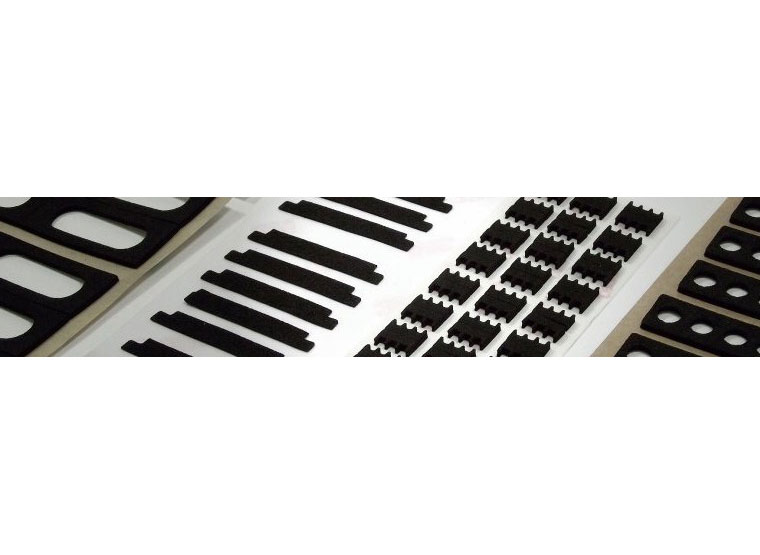 Ethylene Propylene Diene Monomer Rubber Sponge (EPDM) with the closed-cell structure resists to weather, ozone, alkaline, acid and heat are exceptional. EPDM foam is suitable as the gasket or buffer material for automotive and marine industries. Ethylene Propylene Diene Monomer / Styrene Butadiene (EPDM / SBR) compound material is also available.
Features
Light weight and good strength
Thermal Insulation
Non water absorption
Shock absoption
Weather-resistance
Applications
Gasket for vehicle head light, seal for electronic componets…
Specification
EPDM foam EP-07, EP-10, EP-20: Various thickness for different application requests. Halogen free.
EPDM foam EP-20FR: Complies with UL94 HBF flame-retardant level (Horizontal Burning Test). Halogen free.
EPDM foam EP-5010, EP-5020: 50mm thick EPDM rubber foam block. Halogen free.
EPDM foam EP-5020P: Made with non-sulfur accelerator. Halogen free.
EPDM/SBR foam SEF-1, SEF-2: Compound with Styrene Butadiene Rubber (SBR).
Grade
Polymer
Color
ASTM D1056-00
Hardness (ASKER Type C)
Tensile Strength JIS K6251 (MPa)
Compression Resistance 25% (kPa) ASTM D1056
Density (g/cm³) ASTM D1056
Block Size
Remarks
SEF-1
SBR/EPDM
Black
2A1
7 ± 3
0.25 ↑
15 ~ 35
0.18 ± 0.03
37mm x 1M x 1M
37mm x 1M x 2M
37mm x 3M x 3M
RoHS Pass
Non-Halogen
SEF-2
Black
2A1/2A2
10 ± 3
0.39 ↑
15 ~ 50
0.20 ± 0.03
37mm x 1M x 1M
37mm x 1M x 2M
37mm x 3M x 3M
RoHS Pass
Non-Halogen
EP-07
EPDM
Black
2A1
7 ± 5
0.25 ↑
14.7 ~ 44.1
0.10 ± 0.03
37mm x 1M x 1M
37mm x 1M x 2M
37mm x 3M x 3M
RoHS Pass
FMVSS 302 Pass
Non-Halogen
EP-10
Black
2A1/2A2
10 ± 5
0.39 ↑
15 ~ 50
0.12 ± 0.03
37mm x 1M x 1M
37mm x 1M x 2M
37mm x 3M x 3M
RoHS Pass
FMVSS 302 Pass
Non-Halogen
EP-20
Black
2A2
20 ± 5
0.59 ↑
35 ~ 65
0.15 ± 0.03
36mm x 1M x 1M
36mm x 1M x 2M
36mm x 3M x 3M
RoHS Pass
FMVSS 302 Pass
Non-Halogen
EP-20FR
Black
2A2
20 ± 5
0.49 ↑
35 ~ 62
0.16 ± 0.03
36mm x 1M x 1M
36mm x 1M x 2M
36mm x 3M x 3M
RoHS Pass
UL94 HBF Pass
Non-Halogen
EP-5010
Black
2A1/2A2
10 ± 5
0.35 ↑
15 ~ 55
0.15 ± 0.03
50mm x 1M x 2M
RoHS Pass
FMVSS 302 Pass
Non-Halogen
EP-5020
Black
2A2
20 ± 5
0.40 ↑
35 ~ 62
0.17 ± 0.03
50mm x 1M x 2M
RoHS Pass
FMVSS 302 Pass
Non-Halogen
EP-5020P
Black
2A2
22 ± 4
0.49 ↑
39 ~ 78
0.15 ± 0.03
50mm x 1M x 2M
RoHS Pass
Sulfur Free
Non-Halogen
Related Products

RF-2, ECO-05, F05-C, HR, ASC, CS

---

Chloroprene Rubber Sponge (neoprene) is a closed-cell structure foam produced in sheet/block. It is flame-retardant, chemical-resistant, anti-aging, oil-resistant and has good mechanical strength. It is widely used as a buffer material in many industries, such vehicle, machine, Electronic parts and so on.MOQ: 300 sheets (1m x 3m)

---

---
Press Release
Nam Liong Group participated in the press conference of Tainan Municipal Government

The local enterprises of Nam Liong Group, in the fierce international competition environment, still adhere to the business philosophy and development ambition, not only show their proud...

Read More

Nam Liong and a number of banks joint credit signing ceremony

June 20, 2018
The total amount of the Nam Liong Enterprise Co., Ltd. sponsored by the Land Bank was NT$750 million, and the fundraising case was completed. The signing ceremony was held...

Read More

2018 Taipei Cycle

Nam Liong Enterprise is going to attend 2018 Taipei Cycle to present foam composite materials.

Read More