Bio-Base TPU
Bio-based Series
TPU Membrane, Hydrophilic Film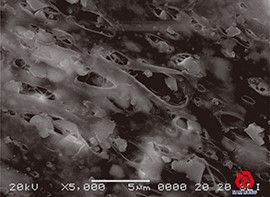 Contains Susterra® propanediol made by Dupont Tate & Lyle Bio-product.
100% bio-based Susterra® is petroleum-free and derived from fermentation.
From "cradle-to-gate" the production of Susterra® consume 40 % less energy and reduce greenhouse gas emission by more than 40% comparing with petroleum-based propanediol.
Features
For Garment & Home-Textile application
Hydrophilic Structure
Bio-base
Good Elongation and Tear Strength
Toxic Free, Seam Sealable
Specification
Thickness: 0.012 - 0.08 mm
Width: 49" - 99"
Both Waterproof and Breathable are available.
Related Products

Waterproof Series

---

Namliong waterproof TPU, a monolayer membrane without PE carrier, is Ester-base TPU processing multifunctional characteristics. Inclued High tear strength, waterproof, and low moisture transmission. Designed for fabric lamination process.

---

Breathable Series

---

Namliong breathable TPU, a bi-layer membrane with PE carrier, is Ether-base TPU processing multifunctional characteristics. Inclued High tear strength, waterproof, and low moisture transmission. Designed for fabric lamination process.

---

---

Files Download

---

This is to certify that DuPont Tate & Lyle Bio Products Company, LLC granted Nam Liong Enterprise Co., Ltd., a license to use its corporate logo and product brand name with Nam Liong's Ureamax® Plus TPU films and Enprotex® Plus laminated fabrics.

---

---

VINCOTTE Belgian quality certification passed.

---

---
Press Release
Nam Liong Group participated in the press conference of Tainan Municipal Government

The local enterprises of Nam Liong Group, in the fierce international competition environment, still adhere to the business philosophy and development ambition, not only show their proud...

Read More

Nam Liong and a number of banks joint credit signing ceremony

June 20, 2018
The total amount of the Nam Liong Enterprise Co., Ltd. sponsored by the Land Bank was NT$750 million, and the fundraising case was completed. The signing ceremony was held...

Read More

2018 Taipei Cycle

Nam Liong Enterprise is going to attend 2018 Taipei Cycle to present foam composite materials.

Read More