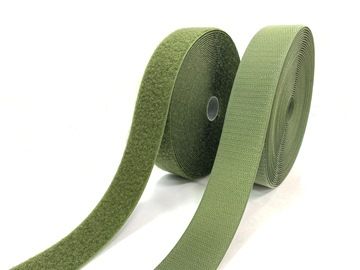 Hook and Loop
Hook & Loop Fastening Tape
Nam Liong hook loop fastener division dedicate our career life to hook loop manufacturing. With skillful knowledge and experience Nam Liong provides our clients professional reclosable solutions by various type of hook loop fastener products. From soft and gentle type for medical use to stiff and strong power for industrial use, can be used to connect medical divices to patients, fix sport supprt on human body, bundle electric cords, organize articles for daily use or work tools, hold large-sized cargo in place and etc...

All of Nam Liong hook loop fasteners have one thing in common, they all preforms strong peel and shear strength, stable quality and long life cycle.
---
Applications
Nam Liong produces various type of hook and loop fastener solutions to satisfy most of inquiries from sport, medical, household, carriage and safety equipment.

Hook and Loop | A High-Performance Technical Fabric And Bio Rubber Sponge Manufacturer For 50 Years.
Located in Taiwan since 1972, Nam Liong Global Corporation,Tainan Branch is a high performance technical fabric and bio rubber sponge manufacturer.
Nam Liong Global Corporation,Tainan Branch provides high-tech, functional, environment-friendly polymers and high elastic foam materials to meet all kinds of requirements from our customers with our continuous R&D ability and great service quality.
NL has been offering customers high-quality tech textiles. Both with advanced fabric technology and 45 years of experience, NL ensures each customer's demands are met.
View our quality products
Wetsuit Material
,
Rubber Sponge
,
TPU Membrane
,
Fastening Tape
,
Resistant Fabric
,
Knitted Fabric
,
Non Slip Fabrics
,
Nail-Proof Fabric
,
Puncture Resistant Fabric
,
Stretch Fabric
,
Reflective Fabrics
,
Fire Retardant Fabric
,
Multifunctional Fabrics
and feel free to
Contact Us
.
---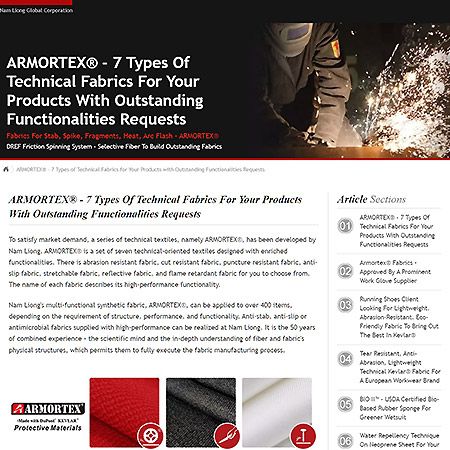 Nam Liong Story for Hook and Loop