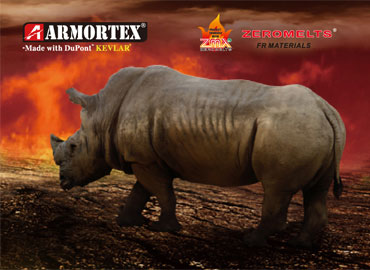 Technical Textiles
Protective Fabric
Unlike textiles for regular clothing or for home décor that focus on the appearances, colors, and fashion trends; technical textiles (industrial textiles) aim at providing great durability, high tenacity, and protection.
---
Applications
With different raw materials, manufacturing technologies, and end-user applications, NAM LIONG Technical Textile has developed its products into nine (9) categories: Abrasion Resistant Fabric, Cut Resistant Fabric, Puncture Resistant Fabric, Anti-Slip Fabric, Stretchable Fabric, Reflective Fabric, Flame Retardant Fabric, Multi-functional Fabric and Functional Yarns & Finished Products.

To enhance our product and market positioning further, NAM LIONG has registered the trademarks ARMORTEX® and ZEROMELTS® since 1995. These brands have gained tremendous reputation in various markets ever since.
Technical Textiles | A High-Performance Technical Fabric And Bio Rubber Sponge Manufacturer For 50 Years.
Located in Taiwan since 1972, Nam Liong Global Corporation,Tainan Branch is a high performance technical fabric and bio rubber sponge manufacturer.
Nam Liong Global Corporation,Tainan Branch provides high-tech, functional, environment-friendly polymers and high elastic foam materials to meet all kinds of requirements from our customers with our continuous R&D ability and great service quality.
NL has been offering customers high-quality tech textiles. Both with advanced fabric technology and 45 years of experience, NL ensures each customer's demands are met.
View our quality products
Wetsuit Material
,
Rubber Sponge
,
TPU Membrane
,
Fastening Tape
,
Resistant Fabric
,
Knitted Fabric
,
Non Slip Fabrics
,
Nail-Proof Fabric
,
Puncture Resistant Fabric
,
Stretch Fabric
,
Reflective Fabrics
,
Fire Retardant Fabric
,
Multifunctional Fabrics
and feel free to
Contact Us
.
---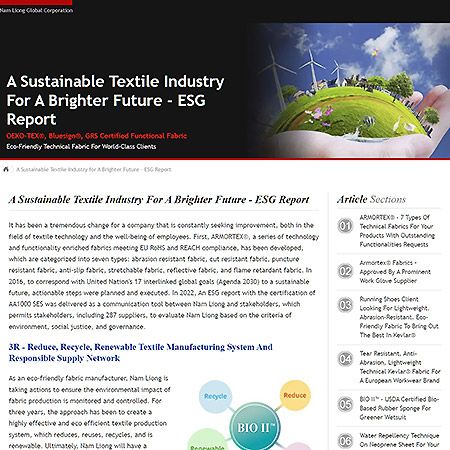 Nam Liong Story for Technical Textiles