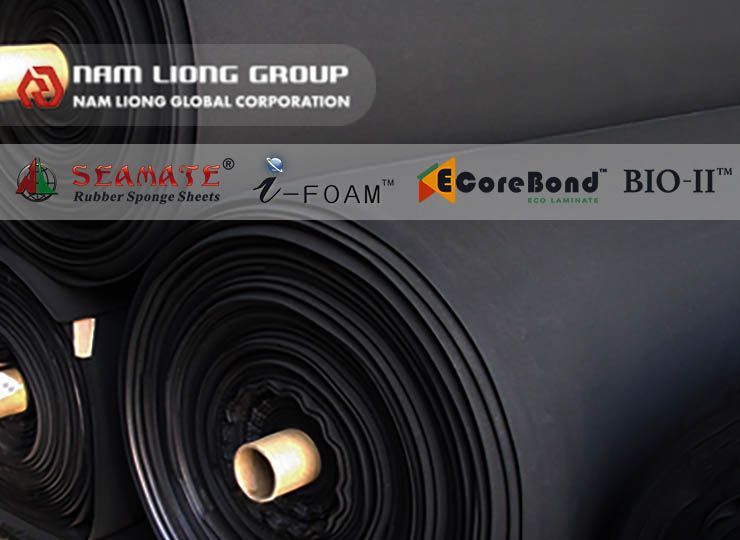 Polymeric foam
Closed-cell sponge
Rubber Sponge Division of Nam Liong Global Corporation is professional on developing and manufacturing the closed-cell foams with many kinds of polymers, such as Natural Rubber, Chloroprene Rubber (so-called neoprene), Styrene butadiene rubber (SBR), Thermoplastic Elastomer (TPE), Ethylene Vinyl Acetate (EVA), Ethylene Propylene Diene Monomer Rubber sponge (EPDM) and so on.
---
We are committed to using the natural, renewable or recycled raw materials to replace the petrochemical contents as much as possible for lowering the environment impact to the earth. Our products are approved by Oeko Tex Standard 100, USDA BioPreferred program, Global Recycle Standard (GRS), etc.

The closed-cell foams have the good performance of warm-keeping, water-proof and cushion. The sliced foam can be laminated with various fabrics for the consumer finished products or can be die cut for the industrial use. The production facilities are located in Taiwan, China and Vietnam.

SEAMATE®
Rubber sponge laminates for consumer products, such as wetsuit, gloves, shoes, bags and so on.

ECoreBond™
Light-weight eco-friendly thermoplastic sponge laminates and bio-based thermoplastic foam.
Applications
Consumer-use applications : Wetsuit, drysuit, swimwear, neoprene fitness suit, medical supports, sports supports, shoes, bags and so on.
Industrial-use applications : Gasket or seal for heat insulation, shock-absorption in machine, automobile or ship.
Polymeric foam | A High-Performance Technical Fabric And Bio Rubber Sponge Manufacturer For 50 Years.
Located in Taiwan since 1972, Nam Liong Global Corporation,Tainan Branch is a high performance technical fabric and bio rubber sponge manufacturer.
Nam Liong Global Corporation,Tainan Branch provides high-tech, functional, environment-friendly polymers and high elastic foam materials to meet all kinds of requirements from our customers with our continuous R&D ability and great service quality.
NL has been offering customers high-quality tech textiles. Both with advanced fabric technology and 45 years of experience, NL ensures each customer's demands are met.
View our quality products
Wetsuit Material
,
Rubber Sponge
,
TPU Membrane
,
Fastening Tape
,
Resistant Fabric
,
Knitted Fabric
,
Non Slip Fabrics
,
Nail-Proof Fabric
,
Puncture Resistant Fabric
,
Stretch Fabric
,
Reflective Fabrics
,
Fire Retardant Fabric
,
Multifunctional Fabrics
and feel free to
Contact Us
.
---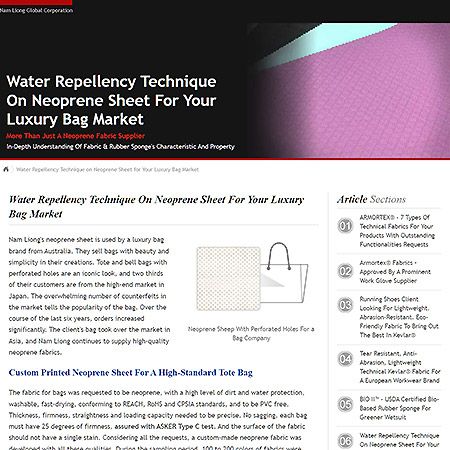 Nam Liong Story for Polymeric foam