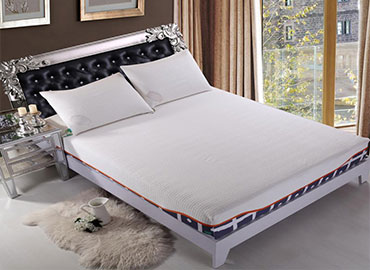 Material For Home & Bedding
Using hydrophilic Groups blended in the Thermoplastic Polyurethane (TPU) to make waterproof and breathable films. It can be tough, flexible, odorless, safe and bio-degradable making it the material of the 21st century. Laminated with fabrics, it can be used for bedroom and furniture e.g. mattress protectors, curtains, sofas.

There are 2 types of films for selection, a regular and bio-based for those who are looking to go green.
---
Waterproof And Anti-Dust Mite Beddings
100% waterproof and prevents dust mites.
Our film can effectively stop water from seeping into the mattress but also dust and dirt, keeping your mattress and pillows clean. Due to the physical properties of the film, it can block dust mites and their eggs from getting through and washable without effecting it's blocking properties.
Breathable And Dry
The theory behind the moisture permeability is the hydrophilic group acting like a sponge absorbing the perspiration and transferring it out to the fabric. Using this material on mattress covers, pillow cases e.g. can reduce moisture build up and sweating giving you a comfortable and dry sleep.
Washable
You can directly put these through the washing machine, but take care to use mild laundry detergent. Do not use bleach and softeners. Do not machine dry.
Safe
Our Thermoplastic Polyurethane (TPU) is bio degradable and has passed Oeko-Tex Standard 100 (Articles that are worn close to the skin) class II. Eco-mate has passed VINCOTTE bio-based content more than 20% (actual testing 26 - 28%).
Thermoplastic Polyurethane (TPU) And It's Applications
● Waterproof sofa
Not only used in bed covers and pillow cases, TPU can also be used in sofas, protecting the sofa from drink spills and pet excrement seeping into the sofa, preventing odors.
● Curtains
We love our sun and breeze but sometime we need privacy too. By adding a layer of black Thermoplastic Polyurethane (TPU) 0.4 - 0.5MM to our curtains, we can reduce direct sunlight on the furniture.