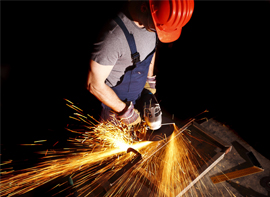 Material For Industrial Protection
Industrial protection deals with all aspects of health and safety in the workplace and has a strong focus on primary prevention of hazards. The main focus in industrial protection is the maintenance of workers' safety and working capacity, as well as promoting a smooth operation and enhancing productivity of the undertakings. Wearing Personal protective equipment (PPE) can help to minimize work injury and can therefore help to ensure safe and healthy working conditions.
---
Our range of the top quality materials for protection from head to toe and a committed team of specialist will support you in finding the perfect solution to this challenge
Robot Arm Covers
With the rapid development of technology, robotic devices have been widely utilized to replace the manpower. The robot arm is a good example used for multiple industrial applications, such as iron foundries or welding processes. However, without proper protection from the hazardous environment, robotic devices can be damaged very quickly.
In order to prevent the damage on equipment surface or spare parts, and to extend the operational life, robot clothing or robot protective covers/sleeve must be used!
Namliong offers the largest variety of protective covers to protect robot arm from abraded, cut and sparks, thus reduced the downtime required for maintenance and failure. Namliong produces different types of technical fabrics, each with its own set of performance characteristics, such as abrasion-resistant, cut-resistant, flame-retardant and etc. The fabrics are complied with international standard of EN-388、ASTM-D3884、ASTM-D3886、ISO-15025-2002.
In addition to the comprehensive range of Hook and Loop, Namliong also offers a a customized fit according to the specific tightness and firmness depending on the activity.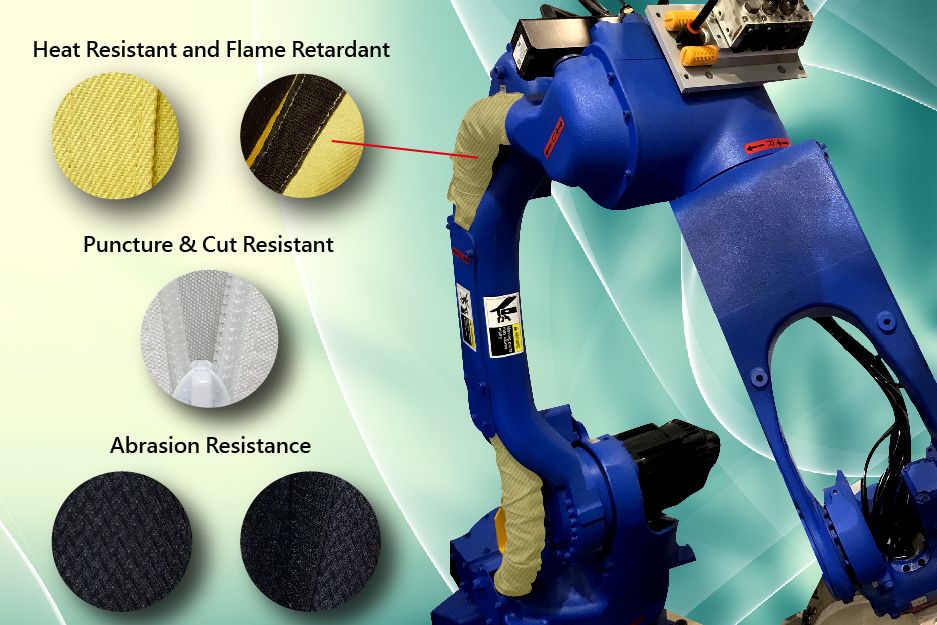 Head Protection
Head protection is particularly important for employees working in environments because of the increased risk of injury as a result of falls, accidents and handling heavy materials or machinery.
● Fire-retardant needle punched non-woven is made of 100% Oxygen Oxidized Pan fiber, it does not contain asbestos, glass fiber and other harmful substances. It is completely non-flammable, heat resistance up to 1200℃. It is suitable to be used as lining layer of safety helmet.
● Heat resistant aluminum foil laminated fabric reflects radiant heat and is the perfect protection for covering equipment that is in close proximity to intense radiant sources such as molten metals, furnaces for forge, ferrous casting and other applications.
● We provide lightweight DuPont Nomex® fabric for balaclava to promote excellent protection for your neck and head from flash and flames.
Film





Related Products

KK-10

This specific woven fabric is made with 100% Kevlar® brand fiber helps provide not only incredibly cut-resistant but is inherently flame-resistant,...

Details

KAG-12A

The woven fabric is designated as permanently fire-retardant made with composite yarn with an aluminized film laminated to one side. It has additional...

Details

PTG-50801

This ARMORTEX® cut resistant color knit fabric is a ultra high cut resistant fabric (EN388 level 5 & ANSI level 6), made by knitting yarns comprising...

Details
Body Protection
Nam Liong provides various cut resistant fabrics which can be applied to surface. The application includes cut resistant garment, gloves, bags, personal protective equipment and etc. Our technique makes our cut resistant fabrics able to achieve excellent cut resistance without sacrificing its softness.
● We offer high abrasion fabrics for reinforcements on high-wear areas such as elbows and knees on workwears.
● We provide different variety of permanently fire-retardant fabrics. The flame retardancy will last for the life of the fabric. The suitable applications are firefighter suit, racing suits, apron… etc.

With TPU waterproof and moisture-permeable characteristics, laminated the durable, wear-resistant and highly visible fluorescent colors Nylon fabric, we creates Hi-tech material for ice rescue suit / survival suit can be used on both ice and water to improve the safety of rescue operations.
Nam Liong provides various cut resistant fabrics which can be applied to surface. The application includes cut resistant garment, gloves, bags, personal protective equipment and etc.
Hand Protection
● We provide different sizes of yarns with high cut-resistance properties in knitted gloves.
● We provide levels of abrasion, stretch and reflective materials for Cut and Sew Gloves.
Foot Protection
● Abrasion resistant fabric on the footwear upper to give the overall durability and protection.
● Reflective patch on the back of the safety gloves to increase visibility in the dark.
● Penetration resistant and conductive material in the footwear midsole to protect workers' feet.
● Abrasion resistant anti-slip material for the shoe toe and heel guards and on the glove palms.
● Flame retardant fabric as the outer layer of the protective mask for welders.
● Chloroprene Rubber sponge (neoprene) has excellent buffer protection. It can be laminated with above functional fabrics to bring the wearer better comfort and protection.
● The flame retardant Chloroprene Rubber sponge (neoprene) can be used as the lining of the fire boots for the better comport and safety.

In addition, we offer functional hook / loop for workers to adjust to the sizes of their safety products. Available in both regular & specific (ie. fire-retardant) styles.

Protective gloves made with our ARMORTEX ® functional fabrics are not only abrasion resistant but also have excellent gripping capability. Other features such as flame-retardance and puncture resistance are available upon request. We can provide qualification for various international test standards such as EN-388, ASTM D3884, ASTM D3886, ISO-12947. High tenacity hook/loop not only gives you the comfort but also the protection that users care the most.