2019.4 Postgraduates at National Cheng Kung University visit Nam Liong Global Corporation,Tainan Branch to gain a deeper understanding of Global Logistics Management
2019/04/16
NAM LIONG
On April 15th, 2019, Professor Jr-Jung Lyu and Chia-Wen Chen (Ph.D.) led their postgraduates at the prestigious educational institution, National Cheng Kung University, to visit Nam Liong Global Corporation,Tainan Branch. For the purpose of letting his graduate students broadly understand more about the global allocation, orders, and other issues that are related to supply chain integration in international business. Jr-Jung Lyu, former winner of National Quality Award and professor of both the department of Industrial Information Management and Institute of Information Management, took his team to Nam Liong Global Corporation,Tainan Branch to have the practical discussion. They were welcomed by Kelly Wang, Director of International Marketing Department, and her team. Kelly generously shared her understanding and experience of global deployment in international business with the students.

Kelly used a simple way to explain how businesses effectively allocate and adjust their limited resources when facing the unstable international market so they can continuously gain control of it. During the discussion, Kelly also guided these postgraduates to think in multiple perspectives and encouraged them to actively express their ideas. This will make them better prepared for entering the stage of the world in the future.

After the discussion, Professor Jr-Jung Lyu and Chia-Wen Chen (Ph.D.) sincerely appreciated Nam Liong Global Corporation,Tainan Branch' hospitality and said that this is a remarkable and precious lesson for the postgraduates, and hopefully they will utilize what they have learned and practice the theory to reality in the future.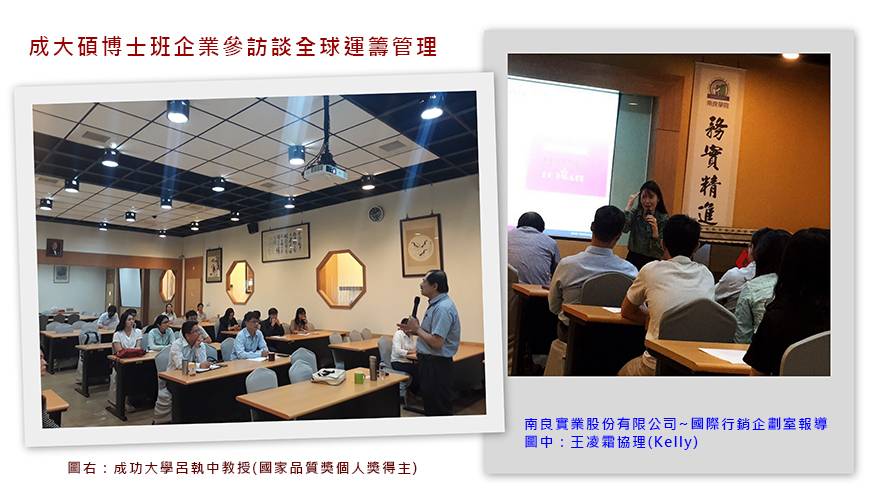 Press Release
Nam Liong Group participated in the press conference of Tainan Municipal Government

The local enterprises of Nam Liong Group, in the fierce international competition environment, still adhere to the business philosophy and development ambition, not only show their proud...

Read More

Nam Liong and a number of banks joint credit signing ceremony

June 20, 2018
The total amount of the Nam Liong Global Corporation,Tainan Branch. sponsored by the Land Bank was NT$750 million, and the fundraising case was completed. The signing ceremony...

Read More

2018 Taipei Cycle

Nam Liong Global Corporation,Tainan Branch is going to attend 2018 Taipei Cycle to present foam composite materials.

Read More